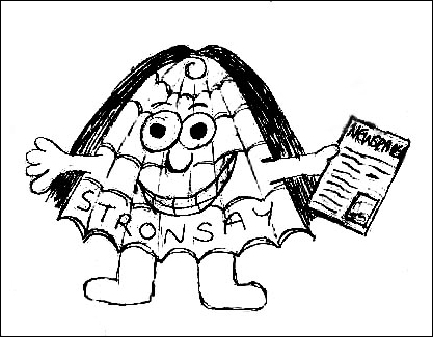 This page was updated at 7:25pm on Sunday 24th October 2021
The Stronsay Limpet is a monthly newsletter for residents and former residents of Stronsay

The Stronsay Limpet's email list is used to distribute timely information of interest to current residents of Stronsay.
This list usually repeats information already available on Stronsay's Facebook page and is for folk who do not have a Facebook account.
To sign up for this list or to have your name removed from this list please contact the editor of the Limpet.

The October edition of the Limpet is now available online
The deadline for the Novemberr edition of the Limpet is 7pm on Sunday 21 November 2021

Downloadable editions of The Limpet
Latest roster for GP and Community nurse
---
21st October 2021 - National Care Service Scotland, Consultation
9th August 2021 - Stronsay Plastic Recycling Trial - final report
23rd July 2021 - Community Council decision on ferry
20th July 2021 - Orkney Ferries draft timetable Winter 2021 (covering letter)
16th July 2021 - Police report to Community Councils, July 2021
9th July 2021 - Update on Stronsay medical cover 12-22 July
9th July 2021 - Letter to Liam McArthur about proposed new mobile phone mast next to BT exchange
9th July 2021 - Plans for proposed new mobile phone mast next to BT exchange
7th July 2021 - Letter concerning Stronsay medical cover 18:15 Monday 12th July to 08:40 Thursday 22nd July
17th June 2021 - VAO are hiring
4th June 2021 - helipad at Balfour - survey result
MONDAY 31 MAY 2021 - Rev David Locke has accepted the post of minister in Stronsay.
He and his family hope to take up residence in the Manse in August/September.
---
Orkney Ferries timetable 1 June 2021 to 26 September 2021
Loganair timetable 21 February 2021 to 30 October 2021
---
Converted 8mm film (16 megabytes) of "Shadowfax"(courtesy of Colin Moss)
STRONSAY RANGER (closed for 2021 season)
STRONSAY JUNIOR HIGH SCHOOL BLOG
ORKNEY ISLANDS COUNCIL - SCHOOL CALENDAR 2018-2021
Do you like/loath the Stronsay Limpet? Let the editor know, constructive criticism is always welcome. Stronsay Limpet's contact details:
Email address editor@stronsaylimpet.co.uk
Postal address "The Editor, Stronsay Limpet, Claremont, Stronsay KW17 2AR"
Handy links for the latest travel information:
Orkney Islands Council - school transport
Orkney Ferries News - Orkney Ferries Fares
Northlink News
Pentland Ferries News
Loganair - bookings for Orkney inter-island flights
WEATHER FORECAST
A weather forecast available on the web
Take a tour of Stronsay starting from the pier where the ferry arrives
or
see an aerial view of Whitehall village (from the RCAMHS website)